Choosing the right swimsuit has not always been easy. I'm well over the other side of 50, so it can be testing to find what I like, and to find swimsuits suits me. 
It's taken me years to find the right swimsuit to make me look and feel great. I've always had big boobs, a thin waist, and thin legs. It's been a nightmare sometimes for me to find the right size swimsuit for my body.
I love looking and feeling great on the beach, but in the past, I've not always felt this way. Either my swimsuits have been too big or too small around the bust, or baggy around my bum, and I never had the confidence to stroll along the beach, as I do now.
It's important for me to feel confident when I'm wearing my swimsuit
I'm a cup size 28H, so my choices can be limited, so I have to shop around a lot. I don't buy swimsuits online, just like that anymore, as they very rarely fit me, and I spend too much time sending things back. I'm dark skinned, so I like to wear brightly coloured swimsuits, or different combinations of colours, to show off my skin tone.
I only go for professional in store fitting each time I buy new swimsuits
I only buy swimsuits from stores where I can have a professional fitting service, so that I can get measured each time. I get my cup size, back and waist measured, and I always try before I buy.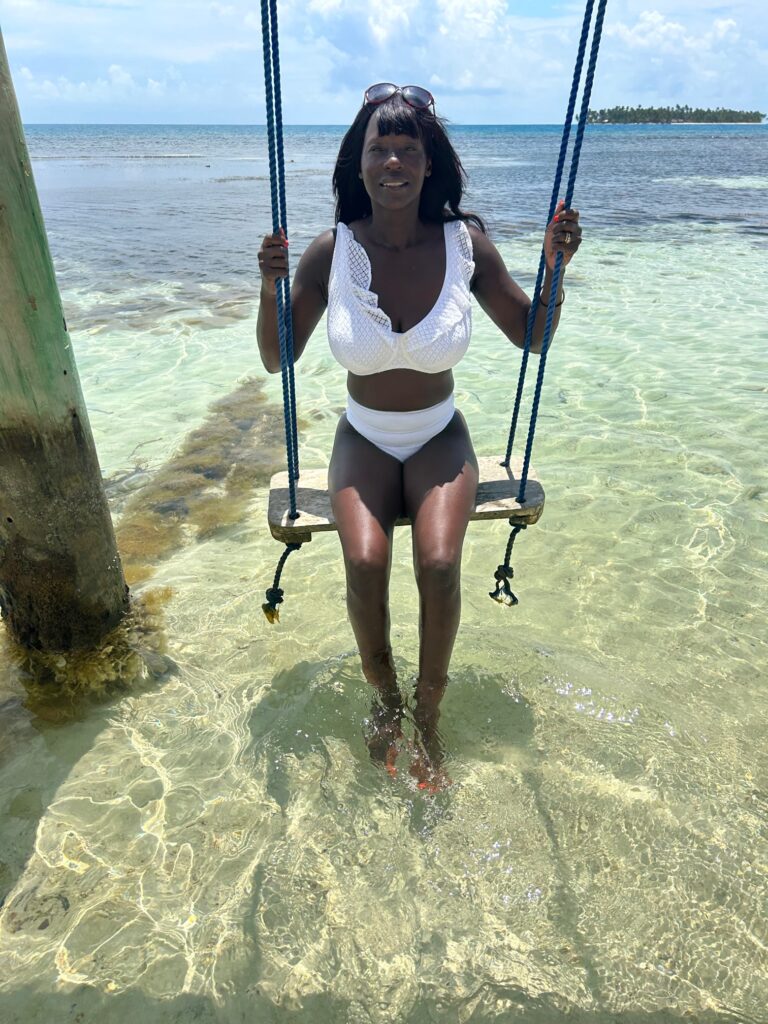 My favourite summer swimsuits
My leopard look one piece swimsuit
My partner bought this one for my 60th birthday. We had a holiday in Antigua to celebrate my landmark birthday. For the first time, l felt fabulous, sexy and confident wearing it. I took this picture standing at the gate of, no other than Georgio Armani's holiday home, which was at the other end of the beach from our hotel. I'm not ashamed to say that I wasn't invited in for drinks. His security was 'tight but polite', as they say.
White is now my new red
I only discovered wearing white swimwear a few years ago. Until then red was my favourite colour, now it's bright and white. I love how white swimwear makes by waist look smaller, and how it really shows up my dark skin tone. I love this bikini top as it really lifts me up and has a nice natural shape to it.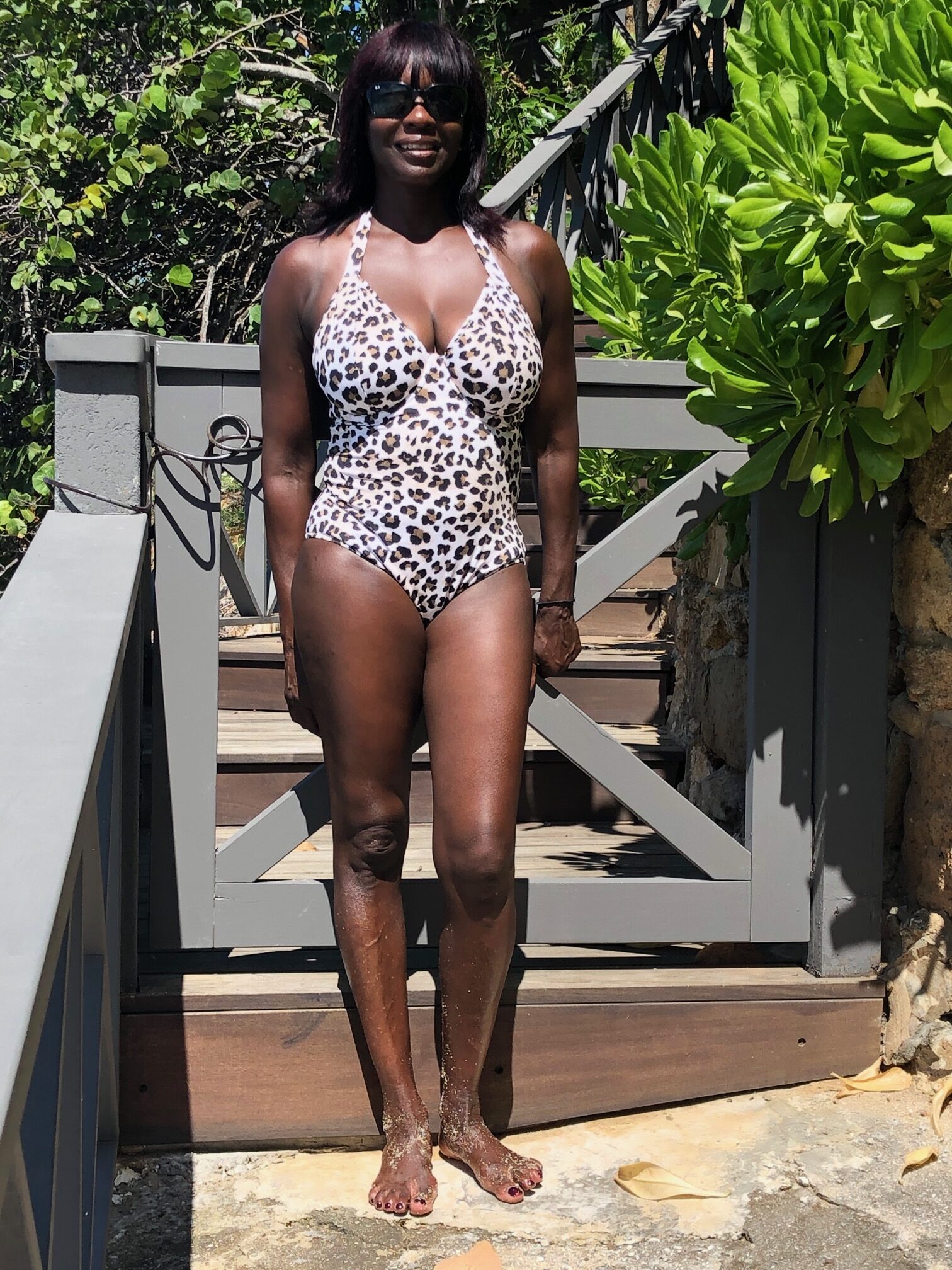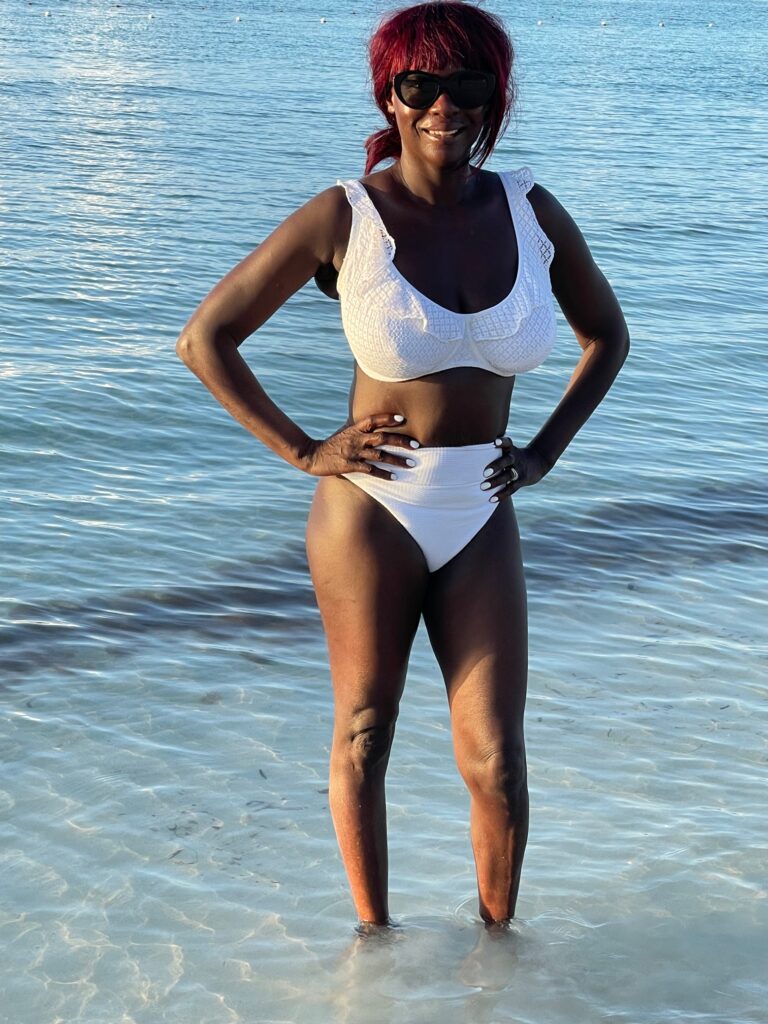 My bright yellow and blue bikini always puts me in a good mood
I never thought about this before, but I choose the swimsuits that I want to wear depending on what mood I'm in. So, if I feel like frolicking in the water, or being a bit silly in the pool, I'll wear my colourful yellow and blue bikini. I love the fastening on the top and at the back, and I like the high waisted bottoms with the belt. If I've had a big lunch, it can hide a lot, if you know what I'm saying?
My black and white leopard print bikini
I feel like a celebrity when I wear this one. I love the contrast in the colours and the white/black leopard skin design on this bikini. I feel so confident and sexy in it. It's my newest addition, and it really suits my skin tone and shows up my figure, I love it.
My tropical Caribbean look
 My soft look, pattern one piece is one of my favourites, it's bright and subtle. I love the detail on the straps and the bust feels comfortable, lifts and fit's well. It looks great at night on the beach.
Black and white printed swimwear
I call this my swimwear for all seasons. It's very comfortable, and I love the contrast in colours, and it's distinctive African inspired design.
So, now you've seen my current swimsuit collection. I'm looking forward to adding more to it this summer. Maybe a bit of red, bright orange, or even black, we'll see.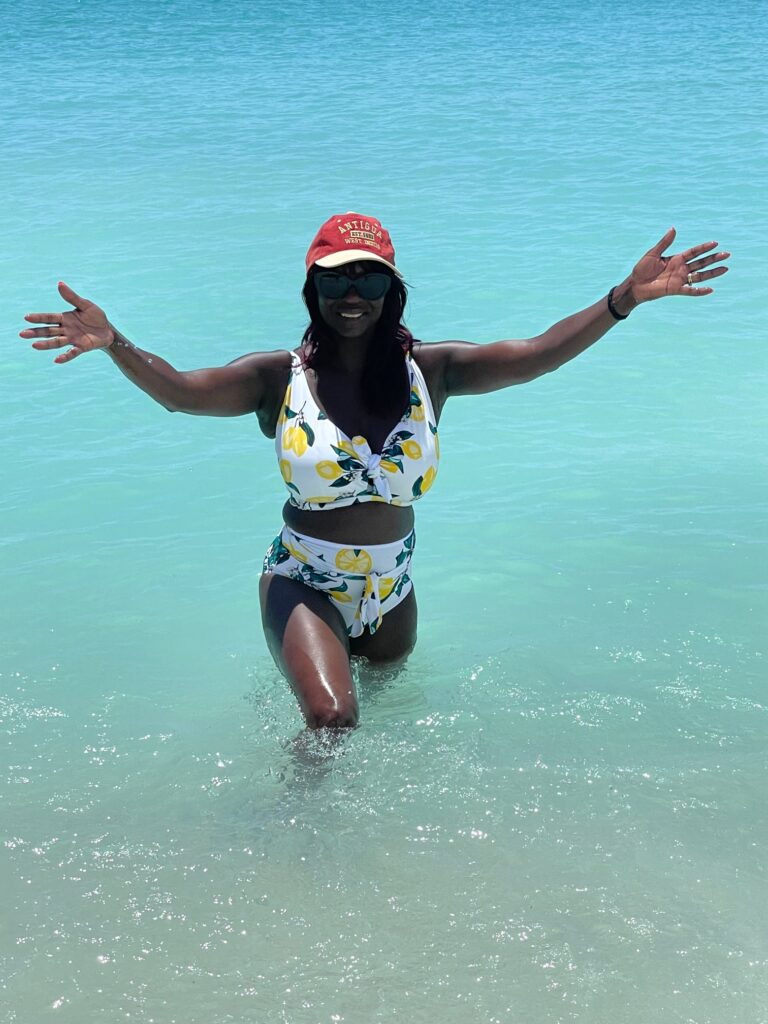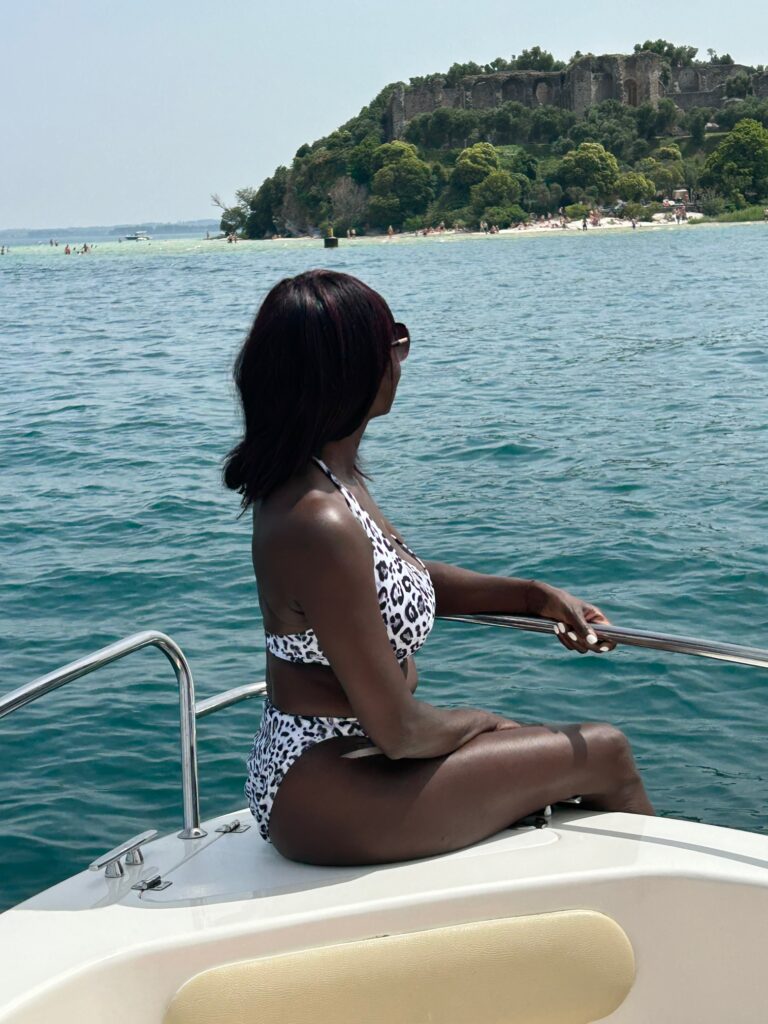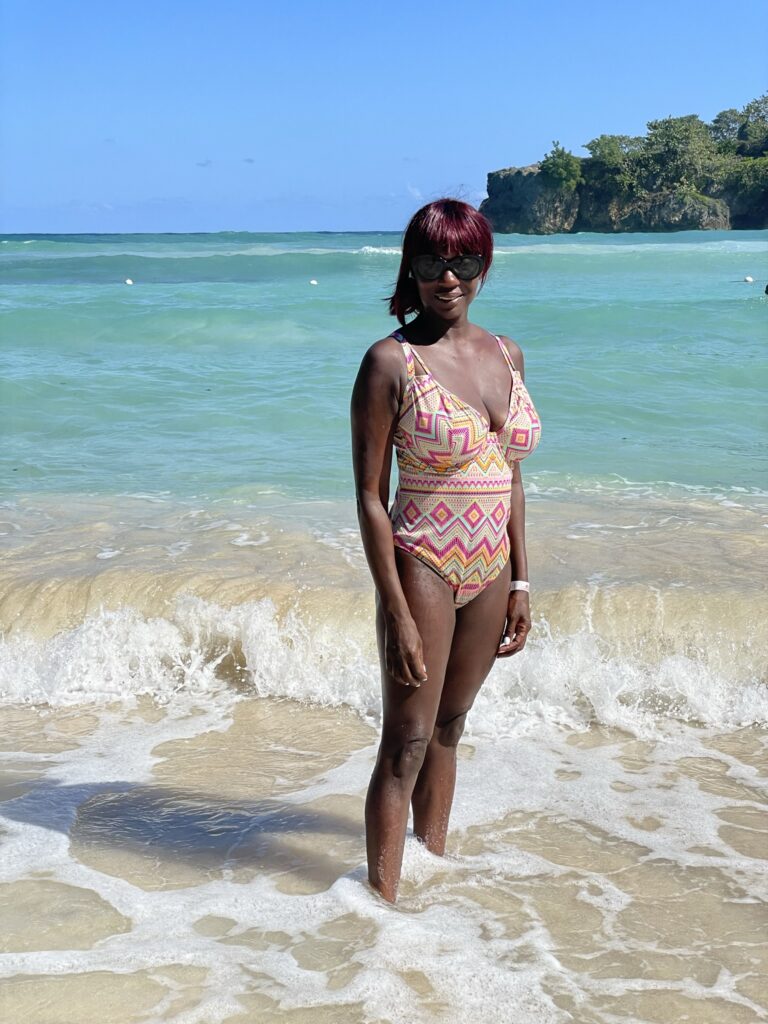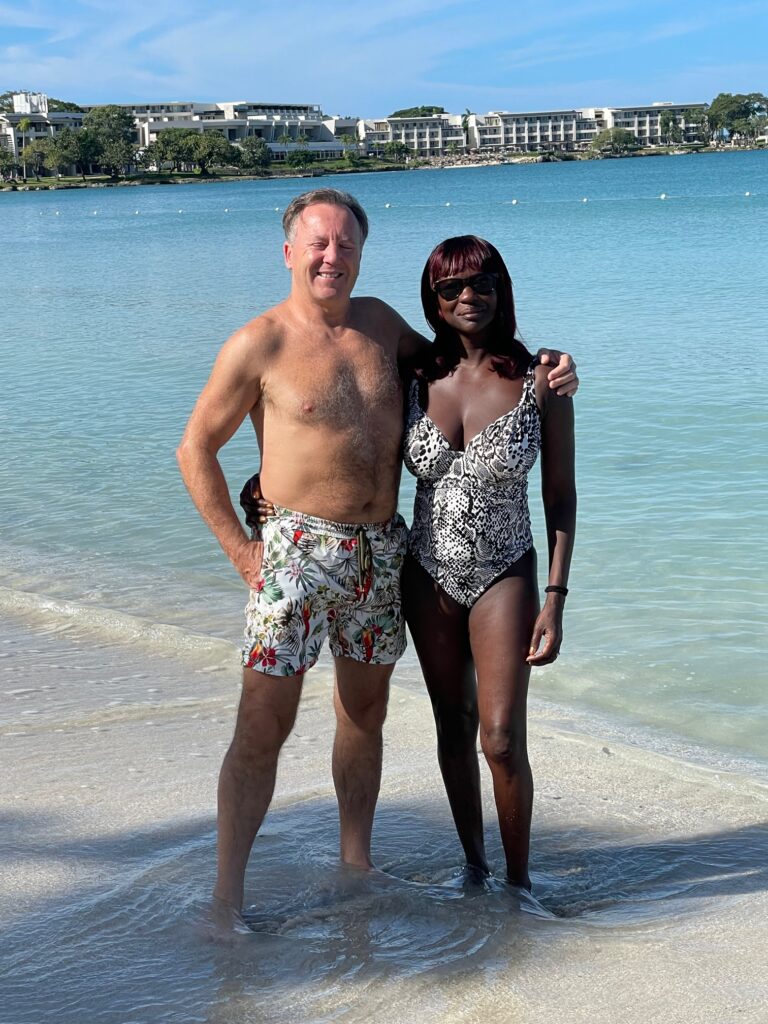 Here's my top tips when choosing new swimsuits
Try to get a made to measure swimsuit or bikini – they'll be more accurate about your bust size, waist, and leg size.
Straps can make or break your swimsuit – my breasts are big and can get heavy in water, so I go for thicker strap for extra comfort and support.
Under wire is the way to go – I always go for underwire swimsuits or bikinis to support my breasts and my back, and they're much better uplifters.
Try different styles they don't give the same fit – not all swimwear is created equal. One style in one size may fit well, but then I've tried another style and many times I've had to change the top to a different bust size, so it gives a better fit.
Mix and match your bikinis – I've got to find a store that allows me to 'mix and match' my swimsuits. So, I'll buy one complete set then I'll buy an extra pair of bottoms so that I've got two different swimwear outfits.
Protect your skin from the sun – if you're on a boat trip and or you're in a place where the sun is hot and there isn't any shade, if you wear a bikini always make sure you've got a throw or shawl to through over you to help to protect my skin from the sun.