Last summer, my partner and I were lucky enough to go on one of the best African safari tours to Tanzania. We did an eight-day land rover African safari tour with a knowledgeable tour guide, who has been doing these tours for over 30 years, so we were in good hands.
This African safari tour was absolutely awe inspiring, and a trip that I shall never forget. I would certainly recommend this as one of the best African safari tours for couples, whether it's a trip you'd like to take after retirement, a honeymoon trip, or just a couples getaway, you'd love it.
The Serengeti the home of the big five
We spent days exploring the Serengeti National Park, a World Heritage Site teeming with wildlife. The Serengeti has over 2 million animals. including 4000 lions, 1000 leopards, 550 cheetahs and some 500 species of birds, that inhabit an area close to 30,000 square kilometers. 
Meeting the wonderful Maasai Tribe
I've always been fascinated by the original inhabitants of this vast land space, the Maasai tribe. They gave the Serengeti its name. It means in their language 'the place that runs on forever', and having been there, it certainly is that. 
The Maasai tribe are amazing, they have lived the same lifestyle for centuries. They live in villages within the Serengeti National Park and their culture and way of life has not changed.
The Maasai men are superb cattle farmers, and live off the land. They are a nomadic tribe, the men spend weeks and even months in the wilderness rearing their cattle and taking them to new pastures to graze. 
Maasai depend on cattle for their food and nutrition. The traditional Maasai diet consists of six basic foods: milk, meat, fat, blood, honey, and tree bark. Both fresh and curdled milk are drunk. Fresh milk is drunk in a calabash (gourd) and is sometimes mixed with fresh cattle blood. This might sound surprising for some, but the Maasai are one of the healthiest people in the world, they have incredibly low coronary disease and low cholesterol rates. 
The Maasai women have traditionally stayed in the village and look after the home and the children. Nowadays, they are contributing to the local economy by forming local cooperatives that rear bees to produce the delicious Maasai honey.
One of the highlights of my African Safari trip was our visit to a Maasai village, where we spent the day seeing how these wonderful and skilled people live. We were shown how to make a fire from scratch, (no matches allowed), and both the men and women took part in traditional Maasai dancing. However, the highlight for me was visiting the village school and listening to the children recite the alphabet and do their arithmetic, with excitement and keenness. I loved it.
Man, and wildlife living in Harmony – Nothing is wasted.
The Maasai and have lived in this natural environment and have co-existed with these big animals for centuries. In the Serengeti,  man and animals have a mutual respect for reach other. What struck me was the noticeable harmony of man living with nature. I also realised that in the wild nothing gets wasted.
The lions are at the top of this wildlife pyramid hunt, and they only catch prey when they or their young are hungry. They do not hunt for fun, they only hunt to feed. What they don't eat is rapidly consumed by wild dogs, hyenas, and vultures. . 
The days were long but rewarding
Although the days were long, they started at 7am and finished at around 7pm, (with a couple of short breaks in between), we were far from bored, with so much animal gazing to do, from unusual birds to the big five to spot and view. We had something exciting and different to see each day. It was simply an amazing African safari  experience.
The week ended with a beautiful, night-time drive throughout this intriguing and expansive park, watching the sunset under a wonderful old Baobab tree whilst listening to the insect noises, the big five had long gone to take up their retreat for a night-time hunt or, to sleep to be ready for sunrise.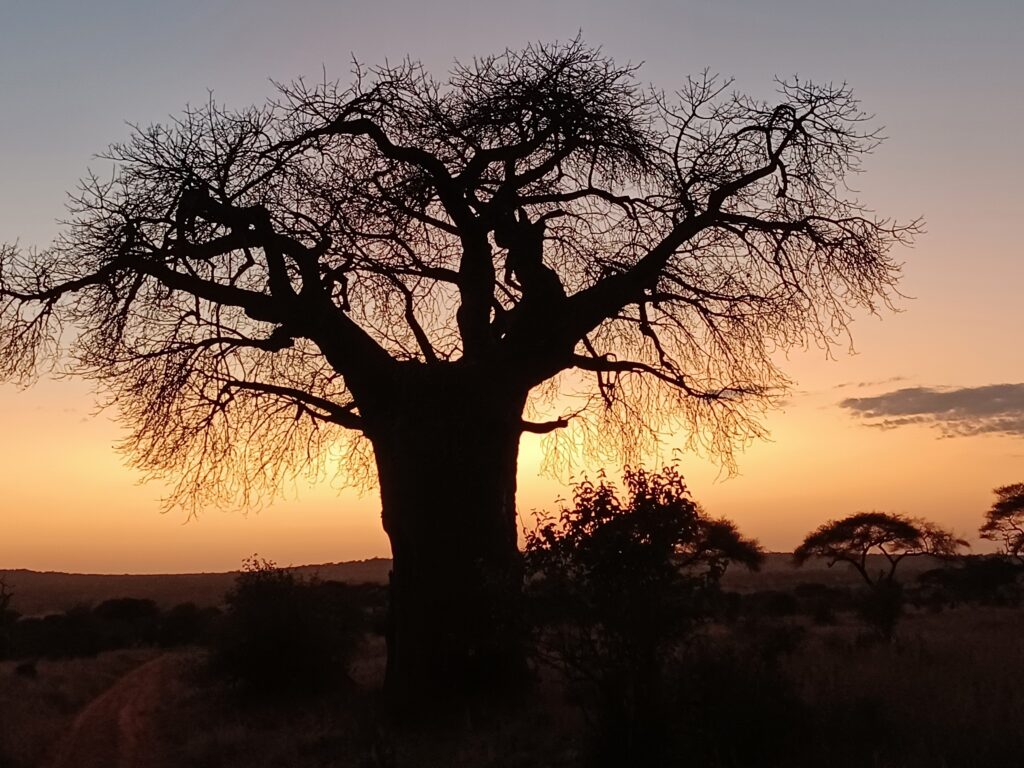 I could write a book about this wonderful African safari trip, but I thought it best just to highlight a few facts about the Serengeti here and let the pictures do the talking. 
Top 10 Facts about the Serengeti National Park, Tanzania
It is the home to the seven animal wonders of the world – Buffalo, Elephant, Lion, Leopard, Wild dogs, Hyena, and Rhino – all coexist and survive in the Serengeti.

It is one of the oldest National Parks in Africa

Serengeti is a UNESCO Heritage site

It is home to more than 1.7 million Wildebeests

The plains have been the home for the Maasai tribe in Tanzania for over 2 centuries

Elephants were moved to the Park due to increased human trafficking

Environment Activists campaigned against an Expressway through the Park

There is a Maasai Village in Serengeti National Park

Ngorongoro Conservation Area is part of Serengeti National Park

Night drives at the park are really popular
So, I hope this has inspired you to take an African safari trip, where nature is abundant, animals are free, and the air is fresh and clean. It certainly was the best African safari tour experience for my partner and I, we absolutely loved it.
Enjoy@menoblogger